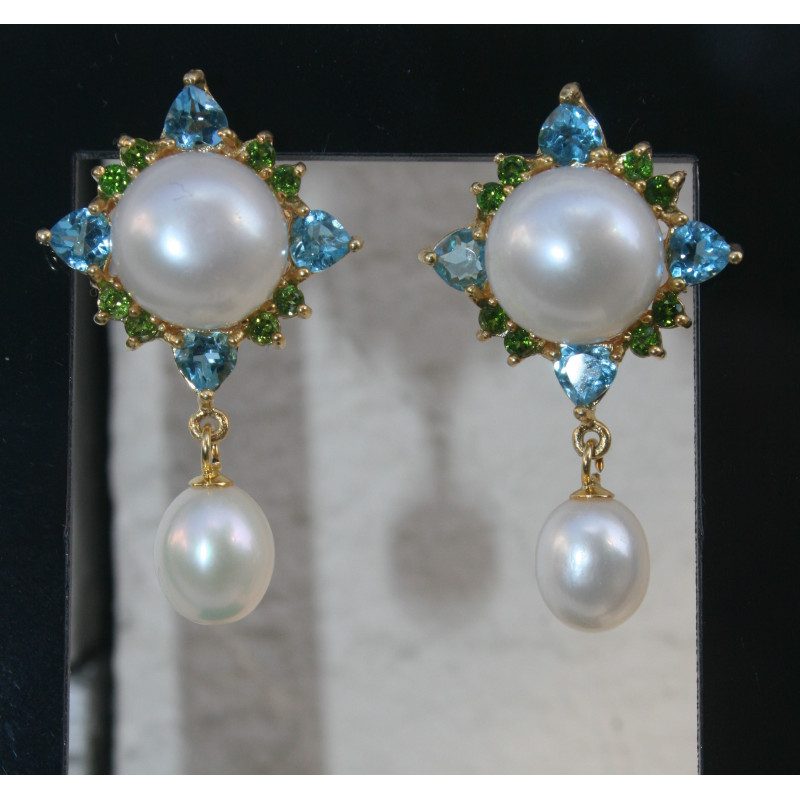  
Boucles d'oreilles perles de culture, topazes et diopsides
Boucles d'oreilles modernes en or argent 925, perles de cultures, topazes et diopsides.
Un modèle festif ornés de pierres naturelles.

Jewels are sent within 2 days
Insured shipment with delivery against signature.

All jewelery is examined and guaranteed by an expert gemologist who is qualified from Gem-A (FGA)
FGA: English Association of Gemmology
 Paire de pendants d'oreilles en argent 925 doré
• Gemmes : perles de cultures, topazes traitées et diopsides. Une perle avec quelques défauts de surface (visible sur la 4ème photos). Cela passe totalement inaperçu quand on porte le bijou.
• Dimensions des boucles : 3X2cm cm environ
• Fermoirs : poucettes belges
• Poids du bijou : 10,35 grammes environ
• Les bijoux Contessina ne sont disponibles qu'en un seul exemplaire
• Bijou sélectionné, contrôlé et garanti par une gemmologue FGA
• Livré dans une pochette avec facture et certificat de garantie
• N'hésitez pas à me contacter, je me ferai un plaisir de vous conseiller au mieux.