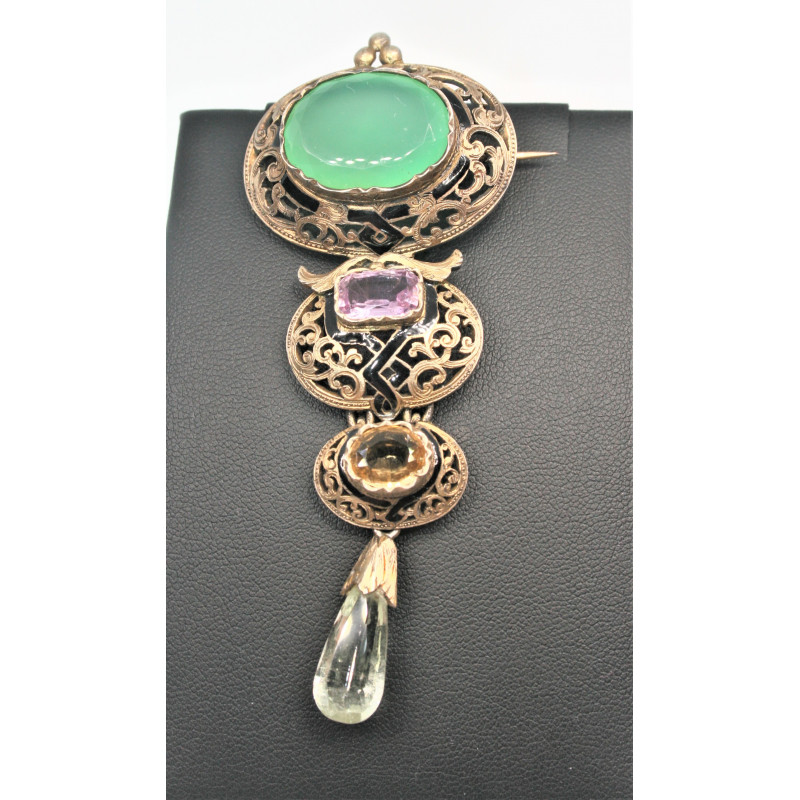  
Antique brooch 19th century
Beautiful brooch in gilded silver, chrysoprase, imperial topazes and aquamarine
You can unhook the upper part of the jewel to wear only the part with the chrysoprase as a brooch and the rest as a pendant.
This large enamelled transformation jewel is a veritable collection of stones in itself.
A rare and spectacular jewel.

All jewelery is examined and guaranteed by an expert gemologist who is qualified from Gem-A (FGA)
FGA: English Association of Gemmology

The jewels are sent within 48 hours.
Insured shipment with delivery against signature.
• Black enamelled golden silver brooch
• Authentic 19th century jewel
• Gems: chrysoprase, pink and gold topaz, aquamarine
• Dimensions of the brooch: approx. 9 x 3.5 cm
• Approximate dimensions of the stones: chrysoprase: 20X15mm - Pink topaz: 10X5mm - Golden topaz: 9X5mm - aquamarine: approximately 16mm in length.
• Jewel weight: approximately 21.28 grams
• Contessina jewelry is only available in a single copy
• Jewel selected, checked and guaranteed by an FGA gemologist
• Delivered in a pouch
• Do not hesitate to contact me, I will be happy to advise you as best as possible.