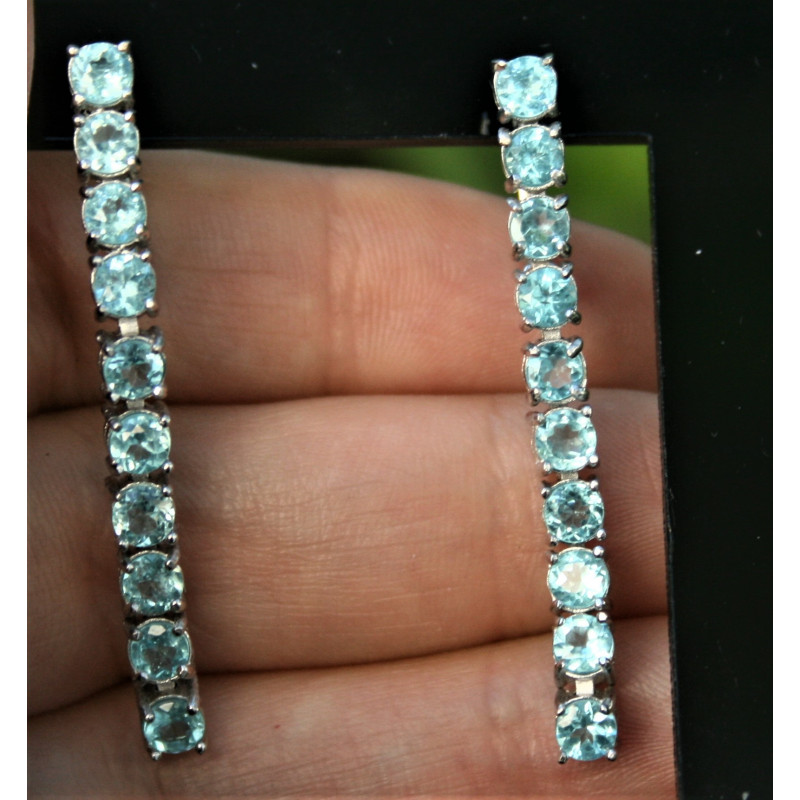  
Boucles d'oreilles en apatite
Boucles d'oreilles modernes en or argent 925 et apatites naturelles.
Longs pendants d'oreilles sertis chacun de dix apatites bleu néon.
Un bijou contemporain, facile et porter et orné de pierres éclatantes.

All jewelery is examined and guaranteed by an expert gemologist who is qualified from Gem-A (FGA)
FGA: English Association of Gemmology

The jewels are sent within 5 days (vacation) but it depends on jewels
Insured shipment with delivery against signature.
• Paire de pendants d'oreilles en argent 925 et apatites. L'apatite est une pierre naturelle. Elle est souvent chauffée pour obtenir une belle teinte bleue, proche de la couleur de la tourmaline Paraïba.
• Longueur des boucles : 4 cm environ
• Fermoir : clip pour oreilles percées
• Poids du bijou : 6 grammes environ
• Les bijoux Contessina ne sont disponibles qu'en un seul exemplaire
• Bijou sélectionné, contrôlé et garanti par une gemmologue FGA
• Livré dans une pochette avec facture et certificat de garantie
• N'hésitez pas à me contacter, je me ferai un plaisir de vous conseiller au mieux.
maisons laffite à compléter