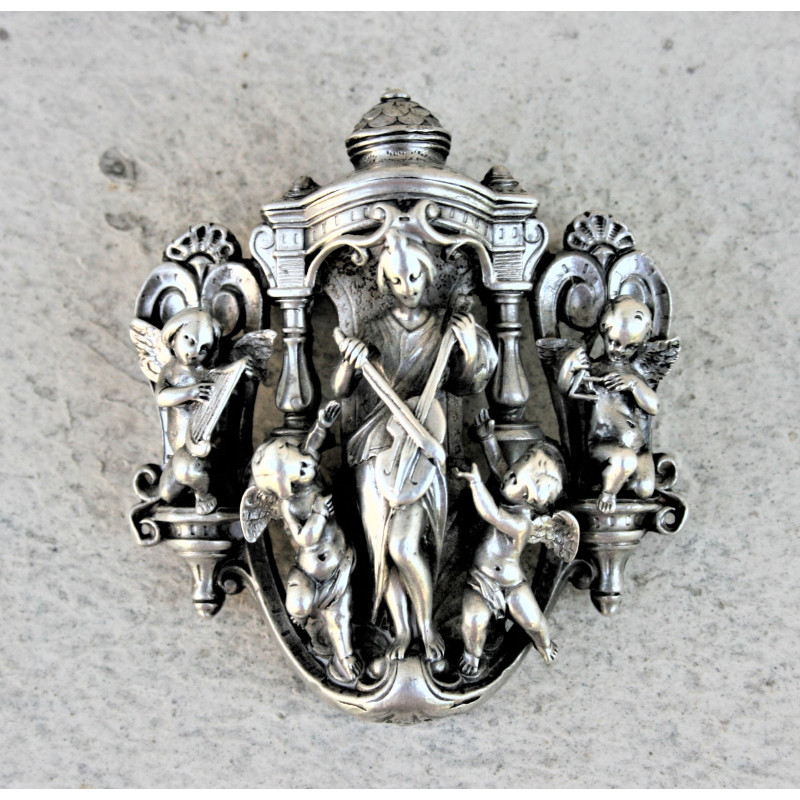  
François Désiré Froment Meurice L'Harmonie brooch (19th century)
Antique silver brooch representing Saint Cecilia, playing the viola and surrounded by angels, in a renaissance style architecture.
The saint, standing on a scallop shell, evokes Venus emerging from the waves.
This jewel is very representative of the historicism in vogue around 1850.
This brooch is an emblematic model of the goldsmith François Désiré Froment Meurice (1801-1855), a similar example is reproduced in volume 1 of La Bijouterie Française au XIXe siècle by Henri Vever p. 158.
Froment Meurice was one of the most famous goldsmiths of his time. Victor Hugo, who was a friend of his and held him in high esteem, dedicated a poem to him in which he compared him to Benvenuto Cellini.
A magnificent allegory of music and a beautiful testimony of the romantic jewel.

All jewelery is examined and guaranteed by an expert gemologist who is qualified from Gem-A (FGA)
FGA: English Association of Gemmology

The jewels are sent within 2 days
Insured shipment with delivery against signature.
- Silver brooch / metal pin
- Period: France circa 1847. Signed Froment Meurice on the back
- Dimensions of the jewel : 45 X 40 mm approximately
- Weight of the jewel : 37,23 grams approximately
- The Contessina jewels are available only in one copy
- Jewel selected and controlled by a gemmologist FGA
- Delivered in a pouch with invoice and description of the jewel.
- Do not hesitate to contact me, I will be happy to advise you.
Reference of the brooch in Henri Vever's book of the 19th century on Gallica (page 158): https://gallica.bnf.fr/ark:/12148/bpt6k63791089